OLIVIE POWER UP
Manfaat Kesihatan
Dikenali sebagai King of Antioxidants mengandungi 62 kali ganda Antioksidan (hydroxytyrosol) berbanding Olivie Plus 30x.
Satu sudu teh Olivie Power-Up bersamaan 10 Liter khasiat minyak zaitun biasa.
Makanan yang sarat dengan anitoksidan sangat bermanfaat untuk kesihatan seperti:
● Menjaga kesihatan jantung
● Menjaga kesihatan tulang
● Anti-Penuaan / Awet muda. Melembapkan kulit secara semulajadi
● Darah tinggi
● Pencegahan terhadap kanser (payudara, usus, prostat dan leukemia) dan penyakit neurodegenerative (Alzheimer)
● Strok
● Menurunkan paras LDL (kolestrol tidak baik) dan trigeliserida (menghalang deposit kolestrol pada dinding salur darah yang menyebabkan atherosklerosis)
● Masalah kronik yang lain.
Keterangan Produk
Olivie Power-Up (Desert Olive Tree Pearls-Concentrate of Power)
Negara Pengeluar: Morocco sejak 1887.
● 100% asli
● Organik
● Mechanically cold pressed
● Tidak bertapis
● Tidak bercampur minyak lain
● Dihasilkan menggunakan teknologi dari Jepun
Kandungan khasiat berlipat ganda lebih tinggi dari pati minyak zaitun biasa. Ini terjadi akibat tanah yang kering dan persekitaran gurun yang teruk telah menyebabkan pohon zaitun mengeluarkan lebih bahan pertahanan dalam selnya dan seterusnya membawa buah zaitun tersebut kepada satu aras peningkatan nilai khasiat yang berlipat kali ganda.
Antioksidan ini mampu melepasi halangan peredaran darah di dalam otak(blood brain barrier) kerana ia adalah molekul antioksida yang paling kecil dan unik.
Olivie Power UP dihasilkan menggunakan teknologi dari Jepun setelah 6 tahun proses R&D. Ianya terdiri bukan sahaja dari buah malahan ranting, dahan serta daun pohon zaitun. Ini menjdikan ianya lebih banyak khasiat dapat diekstrak menggunakan teknologi tersebut. Ujian yang dijalankan menunjukkan 1 sudu teh Olivie Power-Up ini bersamaan meminum 10 liter minyak zaitun biasa merujuk kepada kandungan hydroxytyrososl).
One of the best immune boosting foods, a natural immune booster, in fact: the right immune system booster!
A teaspoon contains as much antioxidants hydroxytyrosol as 10 liters of regular olive oil.
Desert olive tree pearls, intensified power.
OLIVIE PowerUp are pearls coming from olive trees planted in the middle of a desert. These olive tree pearls are mixed with an olive oil obtained by fresh, cold pressed olives. They are rich in antioxidants and are indicated to reinforce the immune system, improve the skin by scrubbing these pearls on the body and the face, as well as for your daily diet.

Please see our video:
https://web.facebook.com/OLIVIEworld/videos/1926164924344298/?t=0

Why the pearls of OLIVIE POWERUP boost our immune system ?
This is because the antioxidants they contain act as a shield on our body cells. OLIVIE POWERUP has a high content of antioxidants that will help increase the body's defense system. These antioxidants can neutralize and prevent free radicals from damaging your body.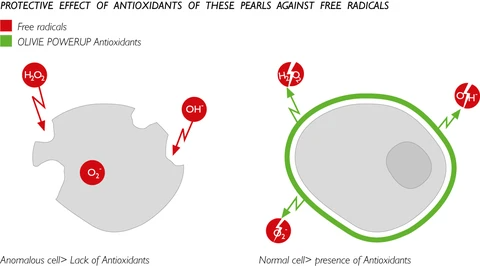 Why the pearls of OLIVIE POWERUP are so rich in antioxidants?
That's simply because the oil comes from olive trees planted in a rocky desert. Just like the wine and its grape vines, it is well known that the olive tree needs to suffer in order to produce the best oil. Considering the very hot environment - up to 53°C (127°F) in summer, the rocky soil where roots cannot develop easily, the lack of water, the olive trees end up suffering from stress. A panic phenomenon occurs in the trees (instinct of survival), which results in a raised production of polyphenols (antioxidant) and hydroxytyrosol and tyrosol (self-defense), more importantly.
INGREDIENTS: Organic certified Desert Olive Tree Pearls made out of: olive tree baby leafs, olive tree leafs, olive fruit, olive oil.
THESE ARE THE DOCTORS RECOMMENDING OUR PRODUCTS:
---